We are thrilled to announce a significant development in the growth of Investment Title LLC, your trusted full-service title insurance and settlement agency.
As of June 1, 2023, we have merged with Noble Title Agency, Inc., a highly respected New Jersey-based company known for its exceptional expertise and dedication to client satisfaction.
Founded in 1989 by Stephanie Rossi, Noble Title Agency, Inc. has built a legacy of providing quality title insurance products and excellent settlement services in New Jersey and beyond. Robert Rossi assumed full-time oversight of the company operations in 1995 and will now bring his expertise to the Investment Title team as the Executive Vice President of National Business Development. Noble Title's commitment to traditional, secure underwriting practices, coupled with forward-thinking sales tactics and customer service-oriented settlement procedures, perfectly aligns with the Investment Title company culture. They are an agent for Fidelity Title.
The integration of Noble Title into Investment Title marks a pivotal moment in our journey, as we combine forces to enhance our services and expand our agency's reach. The entire Noble Title team will be joining us at our Bernardsville office, bringing their wealth of experience and knowledge to further strengthen our capabilities.
We firmly believe that the merger will allow us to better meet the evolving needs of our clients and excel in today's dynamic market. In addition to this merger comes the inclusion of Robert Rossi, President of Noble Title, as part of our ownership and leadership team, which positions us to navigate the changing landscape with even greater success.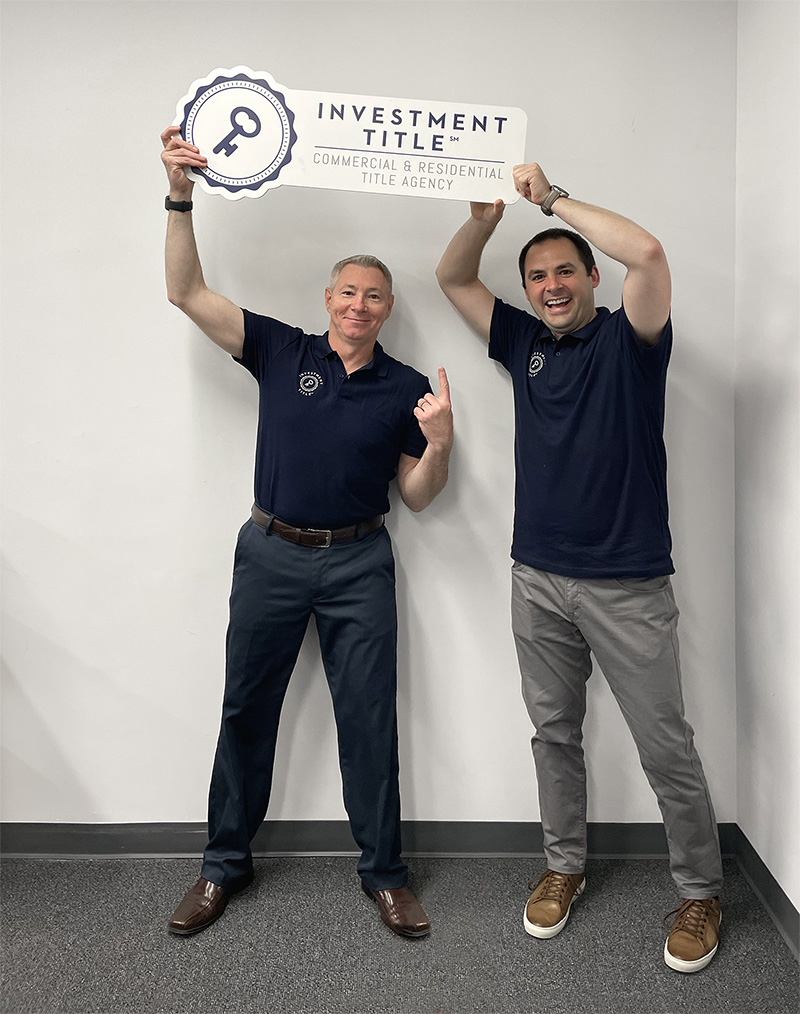 Brian Teel, President and CEO of Investment Title (pictured above right), expressed his enthusiasm about this partnership, stating,
"From our first meeting, I knew that Rob and his people were the right fit for Investment Title's culture. By adding Noble Title to Investment Title and by adding Rob to the ownership and leadership team, we are now in an even better position to engage and thrive in the changing market we are faced with today."
Robert Rossi, President of Noble Title and one of the founding owners (pictured above left), also shared his excitement, emphasizing the mutual benefits of this merger:
"We are joining forces to more effectively service our clients and expand our agency's footprint. Brian and his team complement our team at Noble, and we know together we can grow much more efficiently."
Mr. Rossi will now hold the title of Executive Vice President of National Business Development, leveraging his extensive industry knowledge and experience to drive our collective success.
Investment Title has consistently pursued a strategy of merging with small to mid-sized title agencies, combining resources and expertise to remain competitive in today's demanding market. We are proud of the depth and quality of our customer relationships, and our commitment to providing the highest quality work and customer experience remains unwavering. With offices in New Jersey, Pennsylvania, and Florida, we are actively seeking to expand our operations in additional states.
Investment Title is an authorized sales agent for Chicago Title Insurance Company, First American Title Insurance Company, and Old Republic. These partnerships enable us to offer comprehensive title insurance and settlement services to meet all your needs.
Learn more about Investment Title and our dedication to identifying efficiencies, improving processes, and delivering exceptional customer experiences throughout the title transition lifecycle by visiting our website at investmenttitle.com.
We are incredibly excited about the opportunities this merger presents and the value it brings to you, our valued clients and partners. The enhanced capabilities and expanded footprint will allow us to serve you better, meeting your evolving needs and ensuring a seamless and efficient experience throughout your transactions.
We thank you for your continued trust and support and look forward to further strengthening our relationship through this exciting venture. Should you have any questions or require further information, please do not hesitate to reach out to your dedicated point of contact.